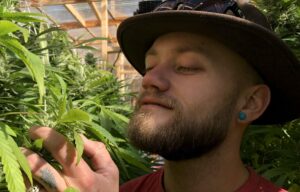 Wes' journey into medicinal cannabis has not always been a linear one, though helping people with thoughtfully grown and processed cannabis products has always been his goal. From Colorado to California and now on to Vermont, Wes has spent countless hours perfecting his craft through the experience and knowledge of various mentors, as well as intensive independent study of indoor and outdoor cannabis cultivation techniques. Having over 10 years of experience in supply chain management and business development, Wes brings a no-nonsense approach to business development and marketing to the STF team.
While Wes is a Tennessean by birth, he is a Vermonter by choice. He, his wife Olivia, and their two dogs moved to Rutland, Vermont in 2019, seeking the solace of the Green Mountains and a place to call their forever home. In addition to a full-time cannabis cultivator, Wes is an avid mountain biker, snowboarder, and live music enthusiast.
Wesley's passion for medicinal cannabis began in his late teens as an all natural remedy for pain management and as an appetite stimulant. Having type 1 juvenile diabetes, he had an extreme lack of appetite and chronic body aches, cannabis served as the perfect natural remedy for both. He became very intrigued in the medical values contained in cannabis and it "lit the fire" within him.
Wesley's initial introduction to cannabis cultivation was through an industry professional in Sedalia, Colorado, who took Wes under his wing and began teaching him the nuances and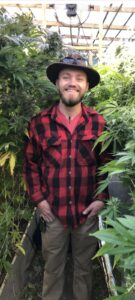 details of greenhouse cultivation & processing. After several grow seasons and an absolute abundance of knowledge, he moved forward with his new found passion.
Shortly after moving to VT, Wes contacted Jeff @HgvtPro to schedule a growers consultation. After meeting Wesley and experiencing his undeniable passion, drive and level of experience, Jeff accepted Wes' proposal to mentor him in the realm of indoor, climate controlled cultivation. Wes has gained a vast amount of knowledge over the years, for greenhouse and indoor cultivation alike. He is now "a force to be reckoned with" in the cannabis industry