Recommended Soil Nutrients
Recommended Mineral-Based or Synthetic Soil Nutrients – This isn't a comprehensive list of great cannabis nutrients, but these are the nutrient system I have experience with and recommend for growing cannabis.
Simple Duos – Use one bottle for the vegetative stage, and the other bottle for the flowering stage.
Dyna-Gro Grow + Bloom – Originally designed for orchids, Dyna-Gro nutrients have proven to work exceptionally well for cannabis plants in soil. If you want professional results without spending a ton of money or having to mix multiple bottles together, these two bottles give your plants everything they need from seed to harvest. The best simple duo in my opinion.
General Hydroponics FloraNova Grow + Bloom – Cheap and easy with excellent results. The biggest issue I have with these is the liquid is so thick it can be annoying to measure out.
Dyna-Gro Grow + Bloom is my favorite simple nutrient duo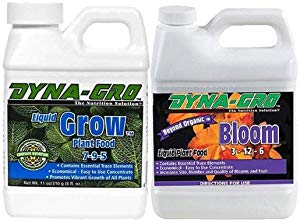 Multiple bottles at a time – Typically there are 3 bottles for the base nutrients but sometimes only 2. This class of nutrients needs all bottles at all times, which get mixed in different ratios depending on the stage of life. More flexibility to alter ratios throughout the plant's life.
Fox Farm trio for soil (mostly organic with some synthetic ingredients) – This is the first nutrient set I ever used for growing cannabis and I was thrilled with my results. They also offer a starter kit that includes their most popular supplements so you can try the entire nutrient line without having to invest in big bottles of everything.
General Hydroponics Flora trio – One of the most popular cannabis nutrient systems. Not just for coco and hydro, it also works great in soil! Follow the instructions on the side of the bottles at half-strength for cannabis plants in soil. This is my go-to nutrient system. Great growth rates, yields, and bud quality.
You can't go wrong with the Fox Farm trio for soil. Just follow the instructions on the label at half-strength for cannabis plants.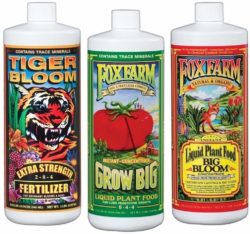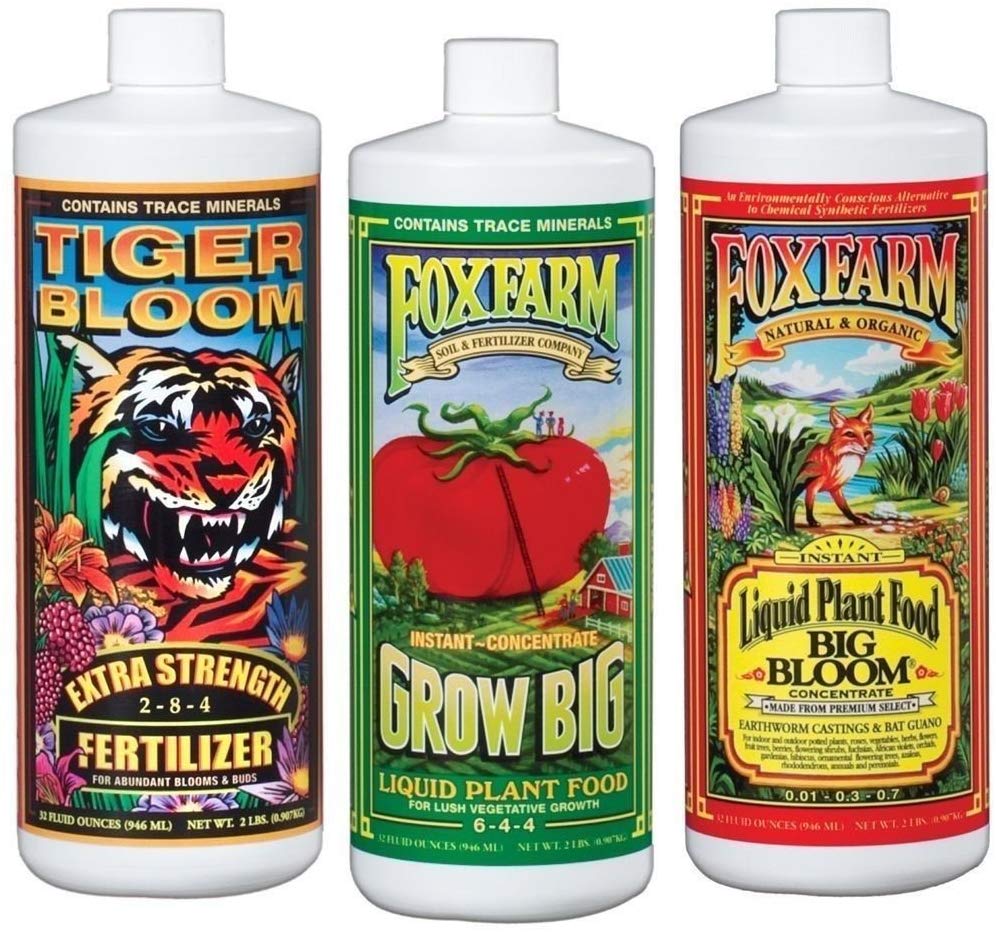 If using filtered or RO water (which contains few micronutrients) it's a good idea to also add a Calcium/Magnesium supplement by the same brand that makes your base nutrients. Cannabis plants go through a lot of Calcium and Magnesium!
How to Adjust PH Using Synthetic Nutrients
Raise PH – PH Up
get a PH Test Starter Kit that includes a small version of both bottles as well as drops to test the pH
Test and adjust the pH of your water to get faster growth and prevent nutrient deficiencies in soil
Organic Soil Nutrients
There used to be a ton of organic soil nutrients in bottles (like the now-discontinued GO Box) but many options have disappeared as growers switch to using amended compost for their organic nutrient needs. Why? The organic nutrients in bottles get similar results to mineral nutrients. The biggest difference in organic growing seems to come from using actual compost and/or amended soil.
Nature's Living Soil (super concentrated organic compost nutrient mix) – amend bottom 1/3 of your plant container with this special organic amendment, and plants will be able to slowly use the nutrients "on-demand". Even if your plants are already growing in soil, you can sprinkle a little of this on top of your soil and water to deliver organic nutrients. Note: smells strongly of manure!
Dr. Earth Organic Nutrients – dry nutrients
Roots Organics Terp Tea Fertilizer Set (Grow & Bloom) – This dry formula is mixed with aerated water and brewed for 24 hours to create a "tea" for your plants. Can also be used as a top dressing.
Best supplement ingredients for organic growing
Sea kelp – a source of K, helps plants resist heat and stress
Leonardite – full of humic acids for happy roots, resist stress
Protein hydrolysate (contained in many supplements) – helps plants produce big roots and be more resistant towards water stress
Potassium Sulfate (also called "Sulfate of Potash") – the sulfur and potassium promote smells and bud development in the flowering stage
My all time favorite organic supplement contains all: Floralicious Plus
How to Adjust pH in an Organic Soil Grow (regular PH Up and PH Down can harm the natural balance of the soil)